Employers
Reduce Workers' Compensation Claims - Decrease Employee Turnover - Increase Productivity
How do you know you're hiring someone "physically capable" of handling their position?

How can HR reduce the risk of application fraud and high employee turnover rates rate?

How can you legally evaluate an existing employee who may be at high risk for injury?
The answer is ePAS™ by KEY Functional Assessments Network.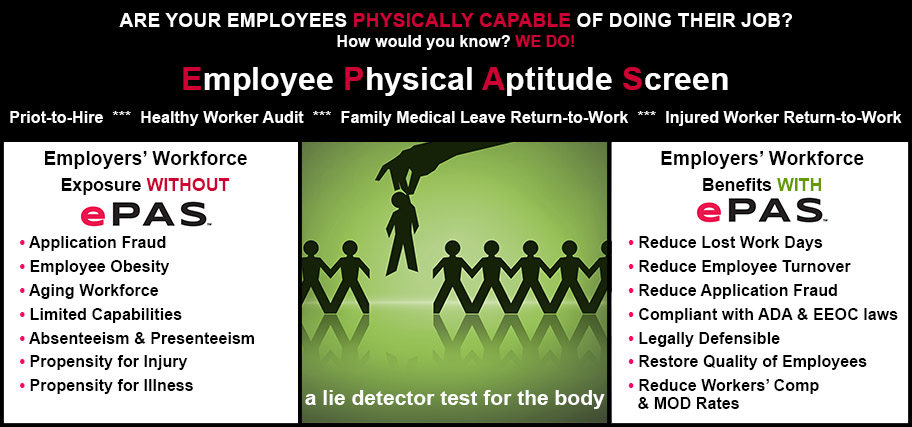 New Hires - Current Employees - Injured Workers
New Hires
Having a KEY Prior-to-Hire Assessment administered after a job offer and prior to the applicant being hired can lower injury rates up to 50% the first year.
Current Employees
Test existing employees on an annual basis with a KEY Healthy Worker Audit to assure their capability levels are maintained for the physical requirements of their job.
Utilize a KEY Family & Medical Leave return-to-work assessment when an employee returns after an extended time away from work.
Injured Workers
The KEY Return-to-Work Assessment generally follows a Workers' Comp injury - and assesses the physical abilities of the employee allowing placement into jobs that are within their safe capability.
KEY Functional Assessments offers Employers assessment options throughout the entire employee life cycle.
Employers across the country in every sector are incorporating the use of KEY's legally defensible and standardized Employee Physical Aptitude Screens into their hiring process, versus relying solely on Physical Exams by a doctor (which only evaluates an employee's physical health, not their physical capability).