About Us
Since 1987, KEY Network has been the leading provider of Functional Capacity Assessments in the Industrial Therapy market.

KEY holds three Patents and provides equipment, software, and training to our client base of Physical Therapists, Occupational Therapists, and Certified Athletic Trainers in clinics, corporations, and hospitals located in 42 States and 6 countries.

KEY Assessment Specialists use the KEY System to measure an injured employee's ability to return to work, to assess the physical abilities of existing employees, and to conduct Prior to Hire assessments on prospective employees. These processes are collectively known as KEY Functional Capacity Assessments.
Evidence Based Assessment
MMPI (Minnesota Multiphasic Personality Inventory) was administered in all initial assessments.

In addition to the tested levels of lifting, pushing, pulling, and carrying, numerous pieces of data such as heart rates and dynamometer readings were recorded and analyzed.

Data of Heart Rate patterns, Weights, Achieved patterns, Dynamometer readings and the MMPI results were Interfaced. Based on the data, determinations were made about the client's Validity of Participation.

Dr. Andrew Ahlgren, Ed.D., Director of the Statistics Department at the University of Minnesota, reviewed the first 100 assessment results that were based on the formulas. Dr Ahlgren concluded the formulas were of value and compliance.

At Dr. Ahlgren's recommendation, the formulas for the determination of a client's participation level were analyzed by Personnel Decisions, Inc.,

With the guidance of the Decision Science Program at the University of Minnesota and the consultation and assistance of Decision Science, Inc., KEY developed an 87 data point decision matrix that utilizes those formulas and assists the Assessor in making the determination of a client's validity of participation.

Interfacing the 87 data points provides the KEY assessor with legally defensible Validity Determinations.

This KEY Method of attaining the Validity of Participation is what is still used today at KEY Functional Assessments Network.
Equipment History
Prototype designed and built through a student project with the University of Minnesota Engineering Department.

University of Minnesota worked with KEY to address safety issues.

Design was presented to engineering firms as a prototype for building the final KEY System.

KEY went to market in 1985 with the first KEY Station.

The current Mobile KEY Station is light weight and easy to transfer and load in and out of vehicles. Assessments can be done in virtually any location.

"Not All Assessments Are Created Equal"

KEY design is based on the standard industrial measures.

Specific protocols, instructions, use of weights, and procedures do not vary and provide rock-solid clinical & legal support.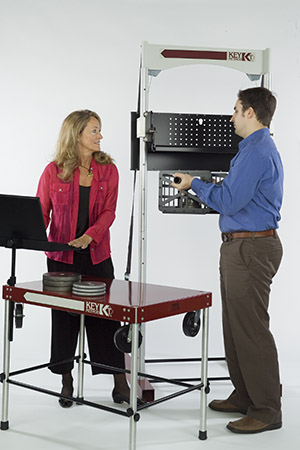 The mission of KEY FUNCTIONAL ASSESSMENTS NETWORK is to provide strong, dependable, and "results-based" assessments for our Providers.